Tags
Author: John Green, books, cancer, death, Genre: Coming of Age, Genre: Realistic Fiction, growing up, life, love, review, teenager, teens, Title: The Fault in Our Stars, Young Adult Books
Citation:
Green, John. The Fault in Our Stars. New York, NY: Dutton, 2012. ISBN-13: 978-0-525-47881-2. Hardcover USD $17.99
Annotation: Two teens with terminal cancer go on an adventure of friendship and love.
Awards:
Buxtehuder Bulle (2012), Odyssey Award for Excellence in Audiobook Production Honor (2013), West Australian Young Readers' Book Award (WAYRBA) for Older Readers (2013), Milwaukee County Teen Book Award (2013), Indies Choice Book Award for Young Adult (2013)
Deutscher Jugendliteraturpreis for Preis der Jugendjury (2013), Amelia Elizabeth Walden Award (ALAN/NCTE) (2013), Dioraphte Jongerenliteratuurprijs for vertaald boek en publieksprijs (2013), The Inky Awards for Silver Inky (2012), Abraham Lincoln Award (2014), Goodreads Choice for Best Young Adult Fiction (2012), Luisterboek Award (2015), Green Mountain Book Award (2014), The Inky Awards Shortlist for Silver Inky (2012) .
Image Cover: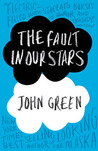 Booktalk:
Hazel Grace Lancaster is a 16 year old girl battling cancer. Upon her mother's request she attends a cancer support group. She meets a boy named Augustus Waters. They share an attraction with each other.
How do two people with terminal cancer deal with life, love, and eventual death? Read "The Fault in Our Stars" to see how these two people live their lives to the fullest.
Fun Facts: Author John Green hosts a The Fault in Our Stars Q&A on his website. *Note* Spoilers are abound if you haven't completely read the book.
http://johngreenbooks.com/questions-about-the-fault-in-our-stars-spoilers/
Videos:
Book Trailer:
Movie Trailer:
Credits: (all links open in a new window/tab)
Image Cover & Awards List: From Goodreads https://www.goodreads.com/book/show/11870085-the-fault-in-our-stars
Book Trailer: https://youtu.be/G4BCKLbRHTM
Movie Trailer: https://youtu.be/9ItBvH5J6ss