Notes: I also changed this book from what I originally picked. If I would be living in the UK this biography review would have been about John Cleese.
Age Range: Including age range for this book, while not inappropriate, there may be some jokes or parts of the story that are inappropriate for younger readers. 15+ for the age range on this book. I will note there might be choices in the story where you won't find anything out of the ordinary, but it's best to caution.
Citation:
Harris, Neil Patrick. Choose Your Own Autobiography. USA: Crown Archetype, 2014. ISBN-13: 978-0-385-34699-3. Hardcover. USD: $26.00
Annotation: If you thought Choose your own adventure books were out of style think again. Neil Patrick Harris's autobiography brings this style of book back to the forefront and is a fun adventurous look through Harris's life.
Awards:
None yet.
Image Cover: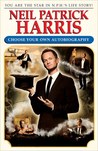 Mini Review:
Star Rating- 5 out of 5 (That's what I gave it on Goodreads).
You've seen him in reruns of Doogie Howser, M.D., you know him as Barney Stinson on How I Met Your Mother, now read about how Neil Patrick Harris got there, and read about his theater and hosting duties. You'll see how he gained fame and fortune and has found happiness on and off the screen.
In Choose Your Own Autobiography, you get to choose how you read the story. Just like the choose your own adventure books you read as a kid, you get to read "adventures" in Neil's life. Don't worry if you want to read straight through. You can. It doesn't feel too disjointed as each "adventure" is standalone, but it is neat to see what would have preceded that adventure. If you want a biography that isn't your standard read, than Choose Your Own Autobiography is for you.
Videos: Book Trailer from the book's website
Watch on YouTube https://youtu.be/qOl8WWeyzvk (Opens in a new window/tab)
Credits: (all links open in a new window/tab)
Cover Image- Goodreads
Video: http://nphbook.com/